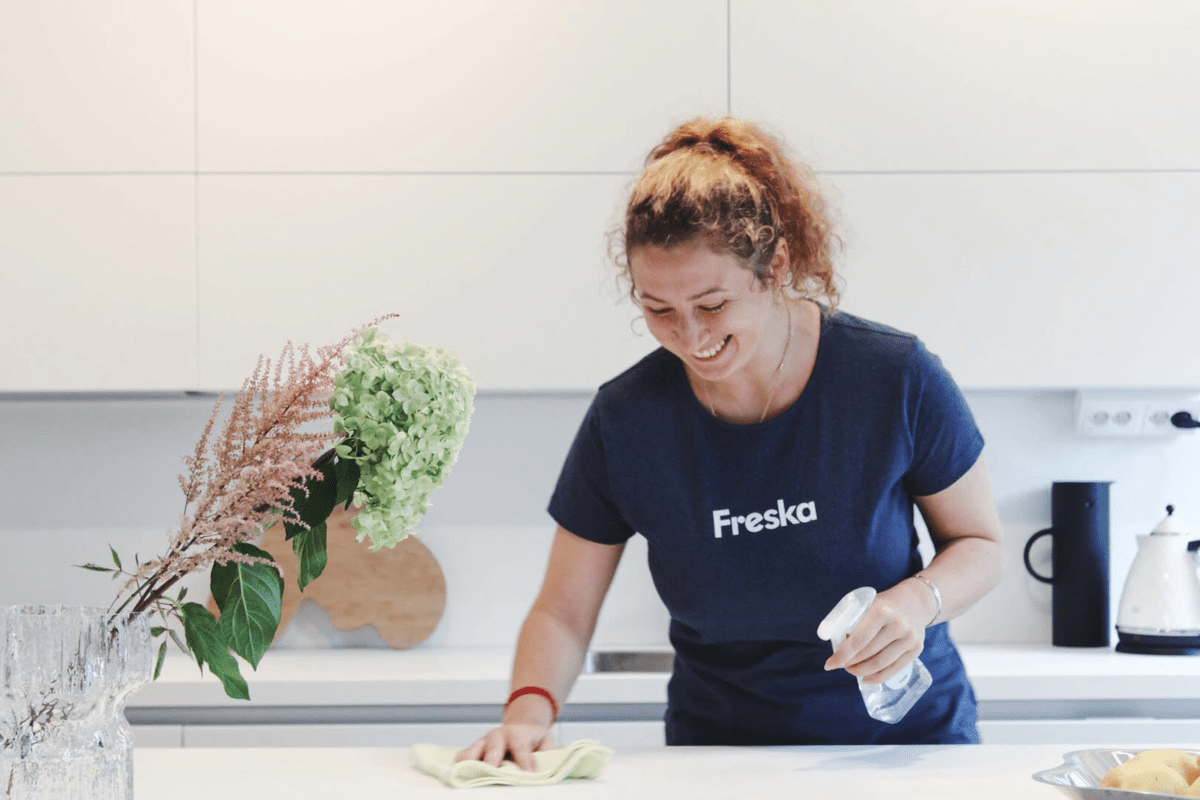 Home Cleaner / Kotisiivooja - Kirkkonummi
We are looking for new Superheroes to join Freska in Kirkkonummi!
Freska is the most exciting thing to happen to cleaning since the invention of the magic sponge! We offer high quality home cleaning to our lovely customers around the Helsinki metropolitan area. We are looking for new home cleaners to join us in Kirkkonummi. Send your application today - we are looking forward to hearing from you!
⭐️What you need:
A valid work permit in Finland
Great customer service attitude 
Ability to work in English or Finnish
A stable schedule in order to have regular gigs
Relevant experience and a car is a plus
💎What can we offer you?
A competitive pay
All necessary knowledge to become a professional home cleaner
Full support during your work
Friendly work community
Protective gear and tips for working safely
Apply now to become a part of Freska's community and do a job that will be valued!
P.S. Do you know someone working at Freska? Remember to mention their name on your application as your referral.
Etsimme uusia supersankareita liittymään joukkoomme!
Freska on mielenkiintoisin asia siivousalalla sitten ihmesienen kehittämisen. Tarjoamme huippulaadukasta kotisiivouspalvelua ihanille asiakkaillemme pääkaupunkiseudulla. Tällä hetkellä etsimme uusia kotisiivoojia liittymään joukkoomme Kirkkonummelle! Lähetä hakemuksesi jo tänään - odotamme innolla kuulevamme sinusta!
 ⭐️Mitä tarvitset:
Työluvan Suomessa
Mahtavan asiakaspalveluasenteen
Sujuvan suomen tai englannin kielen taidon
Vakaan aikataulun pitkäaikaisten asiakassuhteiden saamiseksi
Kykyä työskennellä suomeksi tai englanniksi
Työkokemus vastaavista tehtävistä ja auto on eduksi
💎Mitä me tarjoamme?
Kilpailukykyisen palkkion
Kattavat materiaalit ammattikotisiivoojaksi kehittymisen tueksi
Tiimimme täyden tuen työhösi
Kannustavan työyhteisön
Suojavarusteet ja opastuksen turvalliseen työskentelyyn
Hae nyt osaksi Freskan yhteisöä tekemään työtä, jota arvostetaan!
P.S. Tunnetko jonkun, joka työskentelee Freskalla? Muista mainita hänen nimensä hakemuksessasi suosittelijanasi.
Or, know someone who would be a perfect fit? Let them know!